New feature – Aviator
April 6, 2022
Aviator is a unique type of gambling game where you have the potential to win a lot of money in seconds! Spribe created the Aviator online casino slot game based on a provably fair method, which is presently the only proper assurance of fairness in the gaming business. In the revolutionary slot game featured at IceBet Casino, watch the jet fly at a rising rate and cash out before it flies away to earn rewards.
However, note if you do not withdraw funds before the plane departs, you will forfeit your wager. Aviator is all passion, danger, and triumph! Interact with other players in the chat room, receive free bets, and enter tournaments, all as part of the same game!
About Aviator Online Slot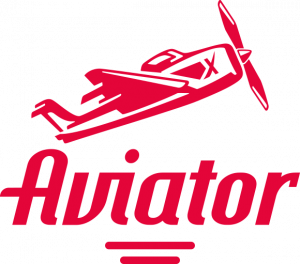 Casino games have grown more predictable, according to widespread criticism, and it's easy to understand why this argument is sound. Aviator is a great place to start if you're searching for something new and exciting to explore.
Aviator, which has been operating since 2019, has rapidly become a fan favourite, owing to its distinct kind of casino game. Aviator has several features that you don't usually see in slot games, such as a live chat service and multiplayer tournaments.
Aviator is an entirely new kind of multiplayer social experience, with an increasing flight stream that can end at any given time. The multiplier grows throughout each round, and before the jet flies off, players must "cashout" their winnings. The simplicity and excitement of this gambling experience style, which originated from video games, has become increasingly popular in many casinos.
Aviator's revolutionary concept elevates online gaming to a whole new level. It's a one-of-a-kind slot game that draws you in with its innovative features and functionality.
Gameplay and Special Features
Aviator isn't your standard slot game, as it lacks reels, paylines, and symbols. The principle is simple: an aeroplane flies up at a rising coefficient giving you an excellent chance to win, but you must cash-out before it flies away. If you do, your wager will be doubled by the coefficient of the aeroplane; if you don't, unfortunately, you will lose.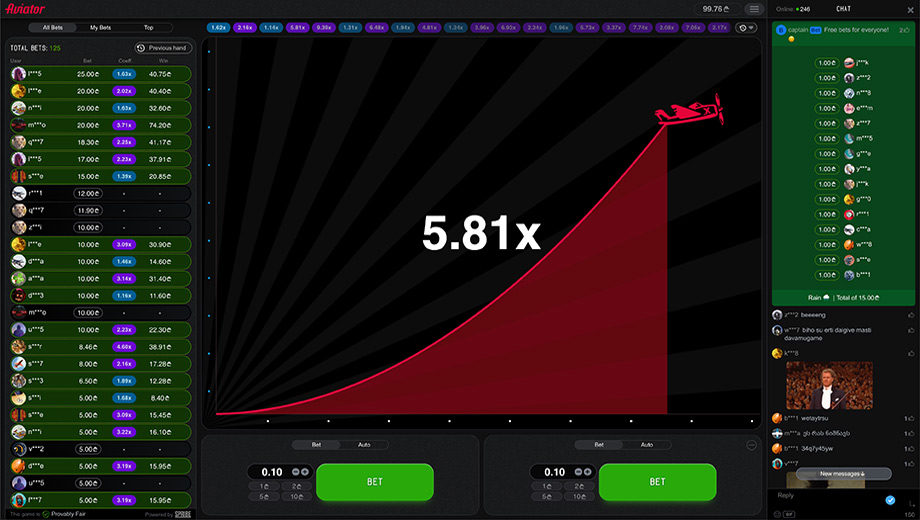 The game's simplicity appeals to people's primitive inclinations, presenting players with a dilemma: cash out early, and you risk losing out on significant potential winnings. The thrill of this game comes from the fear of missing out, which motivates you to hang on as long as possible in order to claim your payout just before the plane takes off.
In-Game Live Chat
Aviator is a multiplayer social game that immerses players in the community. The game has an in-game live chat feature that allows you to communicate with other players by simply using the chat button located to the right of the screen, where you can meet new friends while playing. There's also a GIF and emoji bundle available so you can fool around with other players if you so wish.
Info and Statistics Sharing
Integrated tools enable you to share information from each round. The highest winners are instantly broadcasted in the live chat conversation. With the live betting bar on the left of the screen, you can see every wager placed in a round.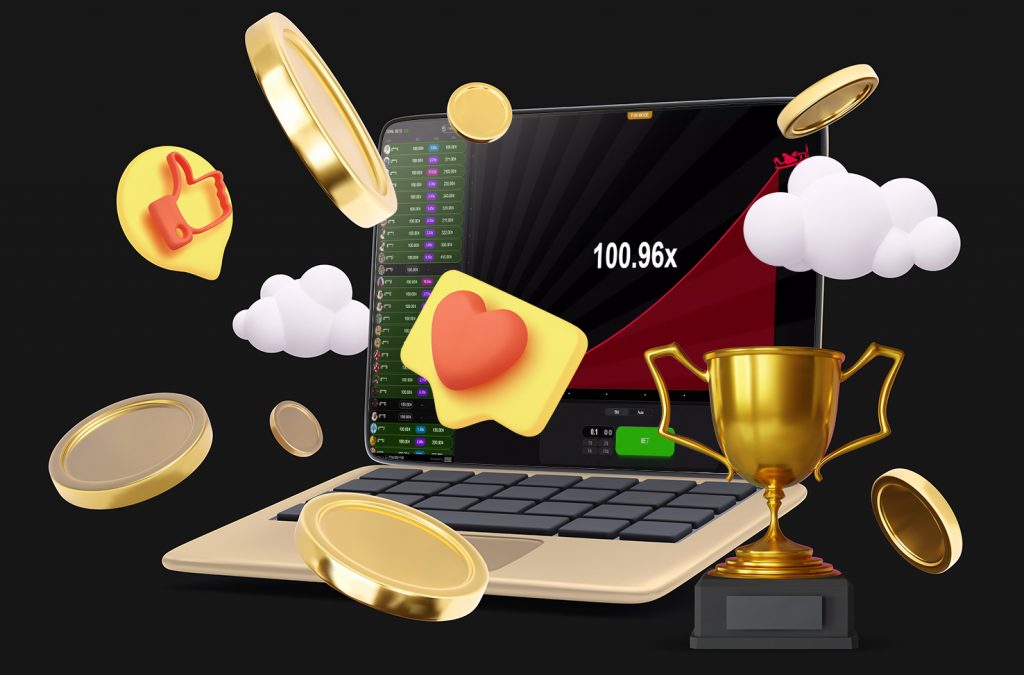 It displays how many participants entered the round, how much they have wagered, their coefficients, and winnings at the end of each game. The game also has live statistics, so you can look at the leaderboard to see who has won the most money and multipliers over the course of the day, month, or year.
Rain Promo Free Bets
Players can also receive free bets with the rain promotion on the Aviator slot game. A random amount of free bets is introduced to the chat conversation now and then, and players may claim them by pressing the 'claim' button. It cannot be simpler.
Aviator Player Tournaments
There are also the Aviator Tournaments, where you and your friends may compete in various tournaments alongside regular play to win additional funds. The best participants are awarded extra cash, free bets, or other unique awards when the contest is over.
How to play Aviator?
Aviator is a casino game that deviates from the standard, yet it is still relatively simple to understand. It's not only a unique title, but it's also one that anyone can get up and running with and enjoy in a matter of seconds. If you want to play Aviator, the first step is to find an online casino that offers it; we recommend IceBet Casino.
Because there are several competitors in every round, the time to bet is restricted. Between rounds, you only have about 10 seconds to put bets, so understanding what you're betting and having it in place is very important. You can always wait for the next round if you miss the start of one.
The auto betting feature is helpful due to the limited betting window; you won't have to rush to get your bets in. The plane takes off, and the coefficient rises at the start of each game. The goal is to cash out before the jet disappears. If you succeed, the award is worth the coefficient multiplied by the value of the coefficient.
Step-by-Step
To wager, choose a bet amount and click the green Bet button.
Players can use a second betting panel to put two bets simultaneously but in different directions. Click on the + (plus) button on the top right-hand side of the betting panel to create a second bet panel to play on.
Click on the orange Cashout button when you are ready to withdraw your winnings and terminate your round. You can stop parallel bets individually, and your earnings are equal to your stake amount multiplied by the odds of the gaming session.
The Auto bet checkbox is enabled to enable autoplay. After activation, the wager will be put automatically and at the same amount each round. Still, unless you also enable the AutoCashout option, you will need to hit Cashout in every game to withdraw cash.
The Auto button on the betting panel offers an Auto Cash Out option. Your bet is automatically cashed out when your chosen odds are reached when this feature is activated.
General Game Rules
The Aviator online game lets you pretend to be a daring pilot, with your rewards determined by how high you can fly the jet before it takes off. In this situation, the multiplication (coefficient) applied to the amount you bet equals the height. The important aspect to remember is not to overdo it and halt the plane at the right time.
Each round in the Aviator slot game lasts 5-30 seconds. The coefficient rises, and your winning potential rises with it in each round. Success is inevitable when greed doesn't triumph over logic and reason, and constant smaller wins suffice.
The victory multiplier starts at X1 and increases as the plane rises in altitude. A random number generator (RNG) provides a multiplier at which the plane flies away before each game begins. The Aviator casino online game is meant to be as simple as possible to play:
Each round, you place your bet or bets
Artificial intelligence controls the multiplier
The coefficient rises and then stops
The bets of players who didn't cashout are lost
This implies that the online casino's servers do not generate the result of each round. It is entirely transparent and is generated with the cooperation of the players participating in the round. The lowest wager is 0.1, while the maximum stake is 100. In a single round, players can wager two bets simultaneously. The Aviator slot game emblem is unknown and ranges from 1.00 to infinity. A player's maximum winning potential stands at £10,000.
RTP and Volatility
The Aviator RTP (Return To Player) is a whopping 97%. This indicates that the predicted long-term return is 97% of the wagered amount. With such a high RTP, Aviator easily outperforms a slew of popular online slot machines, with the industry average set at around 95.9% for online slot games.
It also has a modest to medium level of volatility. As a result, players may expect reasonably moderate gains anytime they play – as long as they can pay out before the plane takes off!
It's important to point out that it's Provably Fair. This technique ensures that the outcome is unbiased and that third-party programs cannot tamper with the system. You may confirm this by going to the top of the page and clicking on any previous coefficient.
Mobile version
Aviator works well on all devices, including smartphones, tablets, Android, iOS, and Windows. If you travel frequently, the mobile version of Aviator online is an excellent companion. It is entirely secure, and you will get the same high-quality gaming experience. Aviator is readily available in browser mode, so you won't need to download any applications to play it.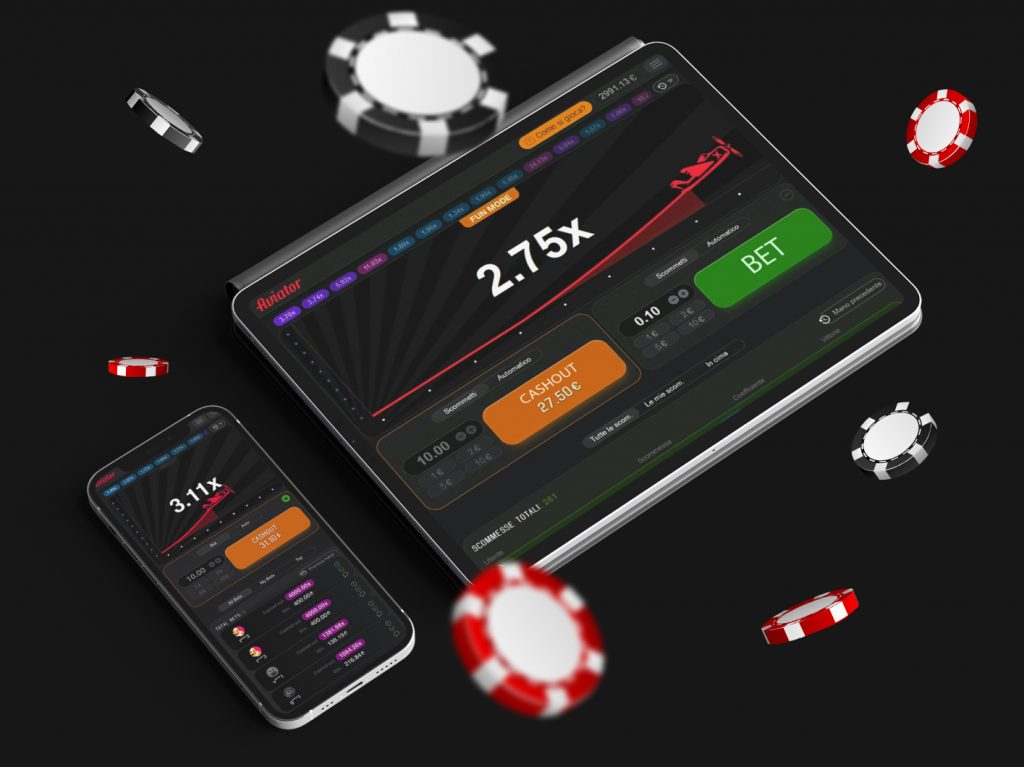 Conclusion
A game like Aviator fittingly joins the social gaming trend in a world where social networking plays a vital role in people's lives. Players may enjoy their gameplay while also establishing new friendships. Playing at internet casinos is no longer a one-on-one experience for gamblers, and because you can see each other's bets, there's plenty of potential for laughs and chats during the game.
When Aviator was released in 2019, it quickly went to the top of numerous charts. Since then, it's more than held its own. It has a lot going for it since it's unique and inventive, but the gameplay is also fantastic and has many of the same characteristics.
Scribe has done an excellent job all around, and they deserve a lot of respect for their innovative approach, fascinating social elements, and a competitive aspect that provides players with fresh experiences. Aviator is undoubtedly a game unlike any other. Overall, if you enjoy taking chances while interacting with other players, this is the game for you.